● BM3-6 Orbit Hydraulic Motor With Disk Valve
BM hydraulic motor is one type of high torque low speed hydraulic motors, with high efficiency and long life. BM motor has a wide Speed range, high starting torque and rotating stable at high speed Compact and light, it can be connected to working machine directly, adapted to all kinds of low speed heavy load facilities.
BM hydraulic motors are widely applied in agriculture machinery, fishing machinery, plastic industry, mining, and construction machinery.
● BM3-6 HYDRAULIC CIRCUIT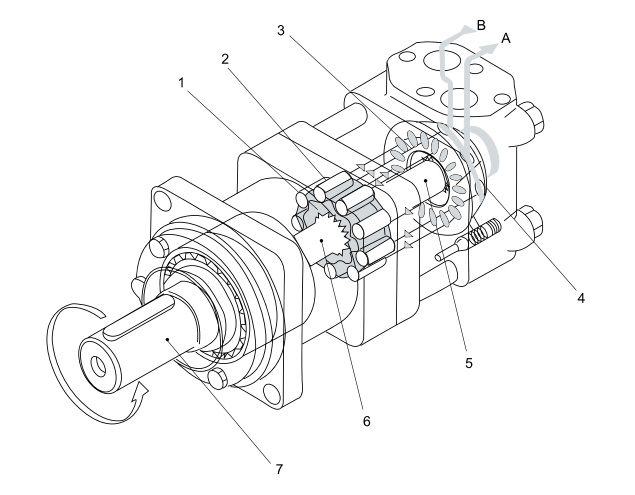 Shown as the drawing, high pressure oil goes into the motor's housing through the inlet, passing the auxiliary plate, distributor, then the working space between the orbit cam and rolls. Pressed by the high pressure oil, orbit cam rotates from the high pressure side to the low pressure side. The orbit cam makes rotation and revolution against the rolls, at the same time, high pressure oil is distributed continuously, thus, the output shaft can also rotate continuously.
The output speed can be controlled by adjusting the inlet flow capability of the motor, and the rotating direction can be changed by exchanging the flow direction.
● BM3-6 MAIN SPECIFICATION DATA